Shipping to Ukraine
The meaning of word "Ukraine" is "border area", the traditional cross between the Baltic Sea and the Black Sea, between Europe and Asia. The various historical and cultural aspects are reflected in differences in the major cities such as Kiev, Odessa, Yalta and Lviv and in the multiplicity of the folklore and traditions that make Ukraine a cosmopolitan country, able at the same time to share the colors of a single flag.
The strong social and economic modernization of post communism has created exciting possibilities for business and in this process Parsimpex was alongside of European exporters supplying his long experience in making the most varied type of deliveries.
Transport services via truck reach all major customs TIR on Ukrainian territory and, upon request of the customer, it's possible to provide door deliveries.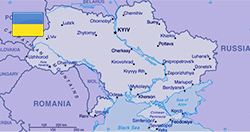 Ukraine road freight shipments
groupage shipments with weekly departures from our warehouse and possibility, on request, to collect with trucks of withdrawal international scheduled. We deliver regularly both standard and ADR goods
transport services with full truck booking feasible for both categories standard and ADR.
Parsimpex realizes air transports from the European Community from all airports Ukrainian customs, with special care for all stages of transportation, by withdrawal landing including the issuing of export customs documents.
The service by sea for Russia it is available to the ports of Odessa in the following ways: FCL- Fullcontainer Load: transport service with inland carriage and ocean freight full containers LCL- Less container Load: service to carry maritime groupage