Shipping to Azerbaijan
The countries of the southern Caucasus represent some of the fastest economies evolution of the moment, opening scenarios very interesting for all European exporters, in particular Azerbaijan is one of the most solid, with a particular preference for European goods. Parsimpex organizes regular shipments from the European community to the customs of Baku, ensuring continued service to this country, even for large batches of full truck refrigerated.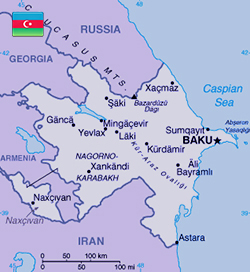 Azerbaijan road freight shipments
Service groupage shipments with weekly departures from our Hub of Milan, Bratislava and Istanbul and then the possibility of withdraw the goods from all over Europe and even the possibility, on request, to withdrawal truck line international. We deliver regularly both normal loads that ADR goods.
Shipping service reservation truck Refrigerated I compete. The best choice for carrying all those goods whose delicacy requires temperature control, by the frozen food to pharmaceuticals.
Transport services with booking full truck feasible for both categories standard ADR.
Parsimpex realizes transportation by air from all the European Community to the airport in Baku, with special care for all stages of transportation, by the withdrawal landing including the issuing of export customs documents. Outside loads Silhouette Azerbaijan (project cargo) On request we make shipments out of gauge cargo by the European Union to Azerbaijan, from large systems to load high tonnage. Open truck, means for exceptional weight and \ or oversized dimensions. All services are made with the exclusive use of the best vehicles on the market with all permits legally required to transit.