Shipping to Turkey
Years of experience in the field and in-depth knowledge of the Turkish market allowed us to create the different types of transport from the European Union to Turkey, providing export to all major destinations such as Istanbul, Izmir, Mersin, Ankara, Etc..
We pick up and deliver everywhere in Europe and in Turkey. Fast, Efficient, Economical Parsimpex follows with regularity and efficiency all types of transport by truck to Turkey from the small parcel shipments to more challenging ones : All of the above services to Turkey, are of course provided both in export and import, for which we also provide all the support required to carry formalities customs, both in Italy and in Turkey.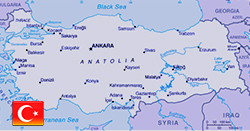 Turkey road freight shipments
groupage shipments to Turkey with multiple weekly departures from our HUB Vimodrone (MILAN) and possibility, on request, to collect with truck of international line. We deliver to Turkey regularly both standard and ADR goods.
transport services with full truck booking feasible for both categories standard and ADR.
shipment bookings of refrigerated full trucks. The best choice for carrying all those goods whose delicacy requires temperature control, from frozen food to pharmaceuticals.
Parsimpex realizes regular air transports from the European Community to all major intercontinental airports of Turkey, and shipments are monitored in every phase with particular care in the issuance of documents and management of the departure and arrivals
Parsimpex organizes transport by sea from European community to major Turkish ports as follows: FCL - Full Container Load: transport service with inland carriage and containers full ocean freight LCL - Less Container Load: Service to carry maritime groupage
On request we make out of gauge transport services from Europe to Turkey, such as large systems transformers high tonnage, etc. ... Transport services with open platforms, high tonnage, exceptional heights and weight organized with the best trucks having all the permits required by local legislation.