Shipping to Iraq
Transportation of Cargo from Europe to Iraq
Despite its troubled recent history of Iraq is a country in fervent economic recovery and reconstruction proceeds firmly, opening prospects for European exporters rich and fascinating. While the majority of Freight Forwarders stops at Zakho and Erbil, Parsimpex delivery on all Iraqi territory making destinations "adventurous" as Baghdad, Basra, Kirkuk, Mosul, Suleymanya, accessible to all European exporters in a >>> Quick >> > >>> Safe and Effective.
Our staff is on hand to organize, track and complete all your shipments to Iraq.
Given the particular political and security situation in the country the feasibility of transport to locations south of Iraqi Kurdistan is to be checked individually before departure goods in order to ensure the success, please contact us for any information.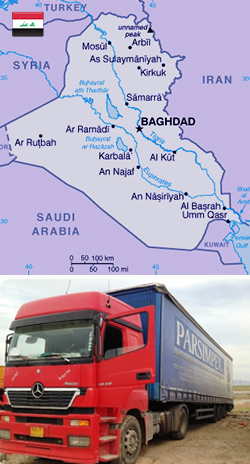 Iraq road freight shipments
LTL / Groupage service by Truck, with multiple weekly departures from our warehouse and possibility, on request, to collect the cargo directly with trucks of the international line. We deliver regularly both normal loads that ADR goods. Dont hesitate to contact us by phone for a individual free consulting.
transport services with booking tilts trucks complete, available for both product categories that normal for games ADR.
transportation service reservation truck refrigerated complete. The best choice for carrying all those goods whose delicacy requires temperature control, by the frozen food to pharmaceuticals.
Parsimpex follows regular shipments from the European Union and aimed at all major airports customs in Iraq, paying the utmost care in the management of each stage of the shipment from pick issuance of flight documents.
Parsimpex leans primary shipping companies for the realization of the following services on the harbor Um'Qasr: - FCL - Full Container Load: transport service with positioning and ocean freight containers full.
On request we make transport services in out of gauge from all over Europe to Iraq, from large systems to transformers high tonnage, etc. ... open platforms, means high tonnage, heights and widths exceptional shipping services made exclusively with the best means having all the permits required by local legislation.