Shipping to Afghanistan
PSX CARGO Group - Your Specialist for Freight Transport to Afghanistan
In a landscape brimming with opportunities, PSX CARGO Group emerges as your dedicated gateway, facilitating seamless freight transport to Afghanistan. Allow us to illustrate why we stand as your primary choice for truck transport and cargo transport from Europe to Afghanistan.
Reliability and Security in Cargo Transport
Your peace of mind remains our utmost priority as we ensure secure and safe freight transport to Afghanistan. Leveraging years of experience in navigating challenging terrains, we are committed to delivering excellence in Afghanistan cargo transport. Our rigorous protocols and the latest technologies signify our unwavering dedication to secure cargo transport.
Flexible Shipping Solutions for Truck Transport to Afghanistan
Whether you envisage air transport for its speed and efficiency, or road and truck transport for cargo movements from Europe to Afghanistan, we have tailored solutions to meet your specific needs. Our experts are always on standby, helping you choose the optimal truck transport to Afghanistan, ensuring a smooth and efficient freight transport process.
Specialized Transportation Services from Europe
As industry specialists, we excel in both standard and temperature-controlled truck transport to Afghanistan. Our fleet is equipped to handle various goods, from standard truck transport to Afghanistan to temperature-controlled truck transport for pharmaceutical and personnel provisions in Afghanistan missions. Trust us for reliable Europe standard truck transport and Europe temperature-controlled truck transport solutions that guarantee the optimal condition of your goods upon arrival.
Robust Local Partnerships in Afghanistan Cargo Transport
Capitalizing on our strong local partnerships, we offer comprehensive logistic services covering the entire cargo transport to Afghanistan process. These alliances facilitate a seamless transition through customs and checkpoints, ensuring timely and smooth Afghanistan freight transport.
Commitment to Excellence in Freight Transport
At PSX CARGO Group, our unyielding pursuit of excellence defines our approach to freight transport to Afghanistan. We adopt innovative strategies and proactive problem-solving to offer you a tranquil and satisfying Europe cargo transport experience.
Global Network, Local Expertise in Afghanistan Truck Transport
Our pride lies in our extensive global network, harmonized with local expertise, offering the most efficient and reliable truck transport to Afghanistan. This synergy permits us to provide specially crafted solutions meeting the unique demands of the Afghan market, connecting Europe to Afghanistan with unmatched expertise in freight transport.
Join us in fostering a partnership that transcends borders, unveiling a world of boundless opportunities. Together, let's carve a path of growth and expansion with PSX CARGO Group, your trusted partner for truck transport and cargo transport from Europe to Afghanistan.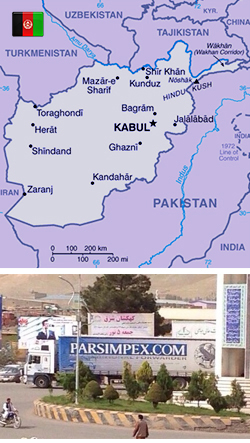 Afghanistan road freight shipments
Secure your shipment to Afghanistan by booking a full truck, accommodating both standard and ADR categories seamlessly. Our available fleet boasts a maximum capacity of 20,000 kg, ensuring substantial cargo transport capabilities for your convenience.
Choose our unbeatable reefer truck shipping service for premier temperature-controlled transport. Entrust us with your delicate goods, from frozen food to pharmaceuticals, and experience the supreme care and expertise we offer as the undisputed leaders in the industry.
Parsimpex organizes regular transportation by air from all the European Community until the airports Afghans currently available, Kabul and Kandahar, with particular care in the follow up of all the stages of transport on arrival from the withdrawal, including the stage of issuance of the export customs documents.
Parsimpex organizes multimodal transport ship + truck via the port of Bandar Abbas (Iran) for all sites in Afghanistan serve. Shipments are followed in every detail, from the placement of the container with sea freight, our staff at the port provides a full service customs transit, transshipment and forwarding from Bandar Abbas to all the major cities of Afghanistan. If the transit time is not your primary focus our multimodal service can be an efficient tool to reduce transportation costs for Afghanistan.